Li

cense #264349
116 N Main St
Goodlettsville, TN 37072
When we speak of a second chance, we mean it.
You can become a homeowner with a credit score as low as 580.
If you are unlucky enough to have bad credit, we still have you covered. UBD Realty one of a kind credit repair rent to own program. The program is designed to give individuals the chance to own a HOME now with a Transunion Fico score of 580.
Tailored around, giving you the option to move into any home within your budget, you will later purchase at the end of the program. All while we work on the bad credit.
There's no other program like it around. So go ahead, apply here.
We are Realtor's trained in customer care, contract negotiations, and home searching. Purchasing a home can seem like a very daunting task, but it doesn't have to be. Our real estate agents are available day or night to answer any questions, make any call, and negotiate on any home of your choosing.
Our Realtors are all uniquely different, but we share the same belief system in our firm.
​
We do not discriminate based on budget, credit score, debt, family history, nationality, career, income, or anything else that matters. We are here to serve first time home buyers, veterans, sellers, move-up buyers, renters, and everything in between. We are ready to get to work for you, so don't hesitate to reach out to us at any time.
Down Payment Requirement?
No down payment required!
The client only needs 2 months of rental payment.
​
*Income must be a min $3750 a month to qualify.
Home Search & Quick Closing
​
We've found through our experience is that buyers want to hire a full-service real estate company. So we make it our goal to provide full services to our clients by actually doing what we are hired to do. Look for properties based on the client's specific wish-list and make any recommendations from there.
Closing times are fast and efficient. Under the second chance/rent to own homes program, you can close and move in the home in 21 days.
The Rent To Own Program is specially designed for individuals who need more time to correct credit issues. Contact us today for fast approval.
Frequently asked questions
What if I don't have the downpayment?
---
That is no problem. Enroll in our Credit Prep Program and we will help you get your credit score to 620. This way you will qualify for no Down Payment. The program only costs $50 a month and is fully refunded when you purchase a home through us.
---
Is Unique By Design Realty, a mortgage company or real estate company?
---
Unique By Design Realty, LLC is a independently owned and operated licensed real estate brokerage. Owned and operated in Nashville, TN. We have a team of agents and a Broker that will take care of all of your home purchase and selling needs. All of our Realtors have a high intergrity and will do whatever is neccessary in providing you the best home buying experience.
---
Does it cost me to get approved or join the program?
---
The program only costs $50.00 a month and is completely refunded once you purchase a home through us. Including collection account dispute fees. Please watch the video below for more info.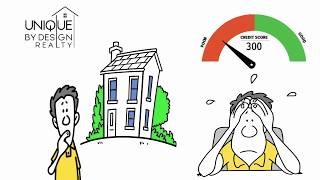 ---
How does bankruptcy affect my chances for approval?
---
It depends on if it is a Chp 7 or a Chp 13 bankruptcy. The waiting period for a Chp 7 bankruptcy is 1 year after dischargel. * Its important to note that client must have clean payment history since dismissal. Please apply if you have a Chp 7 bankruptcy in the past and just haven't restablished credit. This is infact the best scenario. The waiting period for Chp 13 is 1 year after discharge If you need help establishing credit? Please enroll in our Credit Prep Program. It only costs $50 a month and it is fully refunded after completion of home purchase. Visit the Credit Prep Program on the hompage.
---
Can I do the Rent To Own program anywhere?
---
Yes, you can find a home to purchase/rent anywhere in the state of TN under this program. Provided the home falls under your budget.
---
How does this home ownership program compare to FHA, Conventional, or any other mortagage?
---
The Rent To Own Program plan differs in a few different ways, but are similiar in some. The most noticable way this particular plan differs is credit score requirements. Under the Rent To Own Homes program you can get into the home you would like to purchase with a credit score as low as 580. This gives you 1 year to purchase the home using a FHA or Conventional loan. * Pleae note: The higher the credit score. The better the program. Whereas the traditional route with an FHA or Conventional loan, you need a near perfect credit file. Though some of the underlying standards are the same for the program and regular course. The Rent To Own Program gives renters a second chance to correct the credit flaws while living in the home you want to buy. Please note: Rent To Own Proram is suspended until further notice due to Pandemic.
---
What should my credit score be to qualify for the Rent To Own Credit program?
---
Our company works with credit scores down to 500. We aim to increase clients middle score to 620 & above. This allows client the ability to purchase a home through us with NO Down Payment. If you would like to qualify to purchase a home, but you have a low credit score? Contact us about our Free Credit Prep Program.
---
How long does the process take to purchase a home?
---
The time frame varies if you are currently above a 620 credit score or not. If middle score is above 620? It takes 30 days after you find a home to close. If you need to correct credit issues through our Credit Prep Program?It can take anywhere from 2-6 months on average rom beggining to end, including closing and getting keys.
---
What if I have collection accounts?
---
Collections accounts are okay depending on the amount. Use best judgement. If you have $10,000 in collection accounts and have no way of paying them off. We most likely will not be able to get you approved. Most clients have on average $3000-$4000 in collections and are easily approved. *Important to remember. Every application is case by case. Do not be discouraged from applying or enrolling in our Credit Prep Program on the homepage. The program only cost $50 a month and is fully refunded after home purchase.
---
---